MegaRankings, Inc. Case Studies
SEO/SEM CASE STUDY: Sourced Cuisine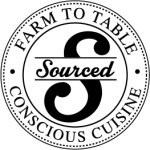 Sourced Cuisine's vision is for a community where everyone has access to freshly picked, truly locally grown, nutrient-dense produce in their daily diets, consuming meals prepared with love and in contribution to the health and vitality of its community. SourcedCuisine's mission is to provide this access through the creation of delicious meals and snacks that are health-promoting, improve the quality of life for the customer, and support local farms. Sourced Conscious Cuisine seeks to leave the lightest footprint they can on the planet.
Summary
SourcedCuisine.com was referred by a current client and went on to contract MegaRankings, Inc. to initiate an aggressive Organic Search Engine Optimization campaign along with optimization for Google Business Listings for their local key phrases. Prior to contracting with MegaRankings, Inc. SourcedCuisine.com had no rankings with Google and no Google Business Listings rankings and exposure. They had no Page 1 Organic or Google Business Listings rankings whatsoever, their traffic and new client acquisitions were quiet.
Objectives
Increase Page 1 rankings with Google
Increase the number of links recognized by Google
Achieve top rankings with Google for competitive keywords like organic meal delivery orange county
Expose website to those interested in healthy and organic meal delivery throughout orange county
Strategies
Fully optimize SourcedCuisine.com with Google, Yahoo! And Bing
Research targeted keywords, optimize all META Tags, design and navigation attributes
Establish link partnerships with complimentary websites
Fully report all data
Results
Acquired Page 1 Organic and Google Business Listings rankings
The inbound links recognized by Google increased exponentially
SourcedCuisine keyword visibility among Google increased 5,000%
SourcedCuisine number of 1st place Organic and Google Business Listings rankings increased by 1,000%. Their Page 1 rankings in Organic and Google Business Listings increased by over 4,000%. Their traffic, conversions and sales as a result have exploded!
'MegaRankings positioned Sourced all over Page 1 of Google, thanks MEGA!'
Founder, SourcedCuisine.com Jessica McLeish
Click Page 1 link to view live search result
Take five minutes to contact us and receive your free website analysis if you qualify.