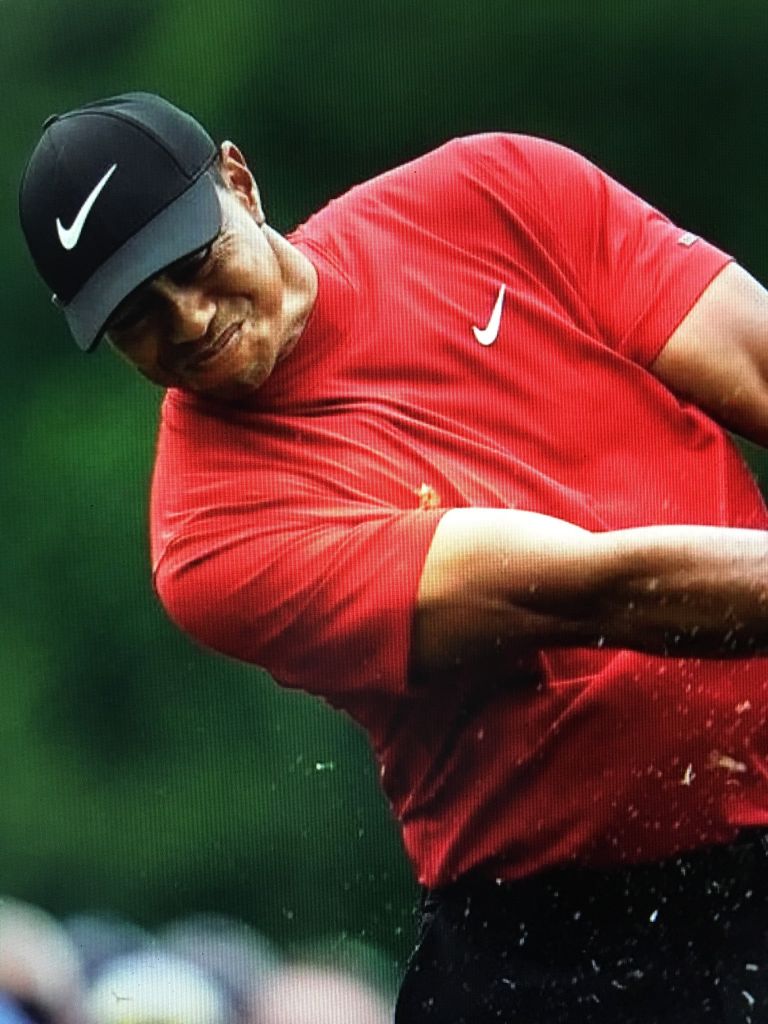 I'm equal parts in disbelief and thrilled for Tiger winning his 15th major. I've watched 90% of Tiger's televised golf over the course of his career. In a way Tiger, along with Paul Azinger, Greg Norman, Freddy Couples, Nick Faldo, Ernie Els, Phil Mickelson and all of those super slo-motion swing breakdowns golf analysts do during televised majors and tournaments, helped pave the way for me to learn how to golf between 1989-2008.
Observation is the most effective form of learning is a theory I agree with. My learning to shoot in the 70's without one paid golf lesson is proof the theory is on point. When Tiger came out of the gates in 1996 and started winning majors in 1997 with his first major, my guess for how many total majors he'd end up winning, I believe, was 24. It wasn't until Arnold remarked about Tiger's swing regarding the potential consequences such fast head speed over the course of a career can have on Tiger's back when I realized Tiger may not be able to rip it as hard as he always has. That was the first time I thought Tiger may be vulnerable from being able to continue to blow away his competitors off the tee.
I believe a big advantage for Tiger during his 14 year span where he averaged one major per year was in his hyper-acceleration to put distance between himself and his competitors allowing Tiger to hit high irons into greens for increased accuracy compared to his competitors firing at greens with a much lower ball flight resulting most often in the ball being further from the hole on the greens.
From my perspective and information gathering, it was Arnold Palmer that revealed the potential back issues first, which isn't surprising since Arnold is one of coolest humans of all time, a lifetime of evidence suggests. Sure enough Tiger's back did exactly what Arnold said it would do. So I dug into stories of other golfers that had the same or similar surgeries and how it left them as competitive professionals and the news was bleak. It appears that no pro ever came back to compete at the same or even similar level post-surgery.
I personally have a lot going on in my professional life with a lot of incoming data to sort and use and there is only so much new information I can process and apply to my world. The fact is, I don't follow golf the way I did between 1989 and 2008. Without Tiger in the mix other interests dominate my time and focus. Then, in 2018, I watched Tiger hit a golf ball in a way I didn't think was possible, post back surgery. Watching Tiger win the Tour Championship blew my mind.
I've been studying Tiger's swing since 1996. I'm surprised he is not only able to go after the golf ball to the extent he does around his back issues, the fact that he is also able to compete with and beat the world's best golfers, in my opinion, is amazing and quite possibly, a miracle. The Masters shouldn't have been as big of a surprise considering he won the Tour Championship. But it still is. I'm in disbelief and thrilled Tiger nailed his 15th major. Tiger's doctors should be household names.
Magic Johnson is a boss and always looks great. He looks perfectly healthy and always appears in the media to have recently returned from a decompressing intelligent trip. Tiger Woods came back and won his 15th major after a surgery that accomplishing winning his 15th major seemed at least medically impossible. Tiger and Magic do something that everybody should do, treat your body with extraordinary care to the best of your ability financial and otherwise. Your desired results and reaching what you may think isn't possible, may not be impossible after all. I'm very happy to have my primary golf instructor back.
Did you know that Tiger's loyal audience like myself is equal to the entire audience that represents all other players on the PGA Tour back in Tiger's heyday? The numbers after #15 are probably even more impressive. Tiger has extraordinary drawing power to go along with his extraordinary chill and calm focus he displayed at the 2019 Masters that for anybody lucky enough to watch won't soon forget. Who did I pick to win the 2019 Master's? My favorite player without the first name Tiger, Mr. Koepka.
It seemed like Brooks didn't put as much into making his putt on #18/#72 that he did on the previous holes to no fault of his own. He appeared a bit distracted as we all were. Great job Tiger! Watch the world of golf explode again. How many majors will Tiger end up with? 18 No 19. A generation always wants to beat the previous record. Love you Jack. Tiger's got you.